PacificSport Okanagan is committed to creating and supporting a sport ecosystem in the Okanagan Valley that is safe and inclusive for all. We are proud to work collaboratively with Kelowna Pride. In the past we have attended the Pride March and Festival (2017, 2018, and 2019), advocating for a safe space in sport. In 2019 we sponsored the "Out and Proud Film Festival" at the Rotary Centre for the Arts, where a sport film called "Alone In the Game" was aired. We are proudly attending the 2021 Pride Festival this year, and we support all inclusive programming which will help us meet our goal to help everyone to play, participate and perform at their best, through sport.
School and Sport Organization Programs
We offer programming for schools and teams to help create safer locker rooms and programs, and we can organize sport and recreation events catered to the LGBTQI2S community.
Please contact us for more information on how we can help you with your event, program, or how to personally navigate the sport system so everyone can benefit from the positive power of sport.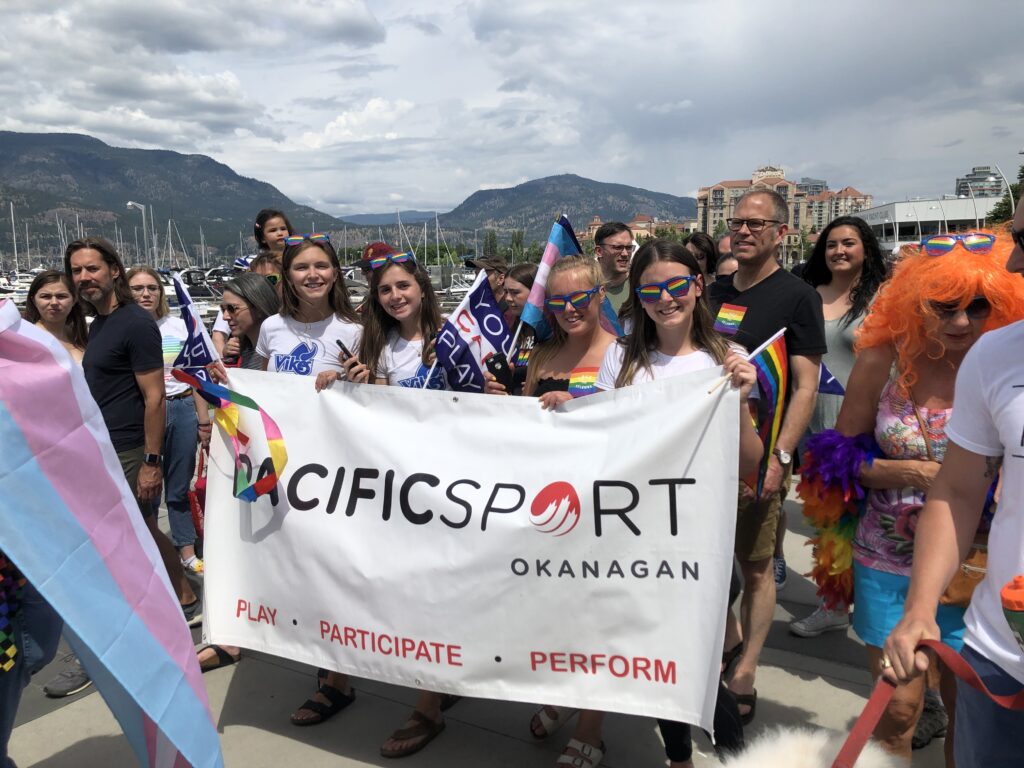 PacificSport Okanagan is working, as a part of a sub-committee, to stop transphobia and homophobia through education and advocacy in our sport sector. We also hosted inclusion panels at our Sport Leadership Conference and at our Gender Equity in Sport session (revolving around gender spectrum and inclusion inequalities). Additionally, we support One Team, which is a Team Canada Olympic Committee initiative to promote LGBTQI2S inclusion in sport across the country.
We look forward to expanding our outreach to the South Okanagan Similkameen Pride Society in the future.
We are proud supporters of You Can Play Project, which works to create safe and inclusive sport for everyone along the rainbow spectrum and beyond. Their work creates inclusion by fostering a strong community of allies and sense of belonging. You Can Play provides several resources for coaches, sport organizations and athletes to support inclusion:
You Can Play also facilitates training workshops for teams, organizations, administration or corporations to promote inclusive and safe sport. Contact them through this link to set this up.
We encourage you, as an athlete, coach or sport organization, to create a video like the one above to be a part of the You Can Play project.
The following resources are created and outlined by viaSport as being reliable resources for sport organizations, in regards to inclusivity and LGBTQI2S:

Key Terms: 
LGBTQI2S: This term is used to be inclusive of Lesbian, Gay, Bisexual, Transgender, Queer (or Questioning), Intersex, and Two-Spirit individuals.
Gender: refers to the socially constructed roles, behaviours, expressions and identities of girls, women, boys, men, and gender diverse people (Canada Institute of Health Research, 2020)
Sex: refers to a set of biological attributes in humans. It is primarily associated with physical and physiological features including chromosomes, gene expression, hormone levels and function, and reproductive/sexual anatomy (Canada Institude of Health Research, 2020).
Gender identity: an internal feeling or awareness we all have about being a male, female, neither or both (Kids Help Phone, 2020).
Sexual orientation: Sexual orientation means how you are attracted romantically and sexually to other people (HealthLink BC, 2020).